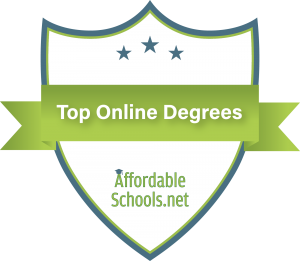 Earning an online Ph.D. in Human Resources Management appeals to a large number of students, particularly those who are seeking flexibility when it comes to their education. Many of the students pursuing these programs are professionals who hold a business degree and who are already working in the field but are looking to advance their career options and take on more responsibilities.
A doctorate can also help students gain the specialization they need to gain employment as a research consultant or director or to earn an academic position within the field. As a specialist in human resources management, students will be equipped with the knowledge to guide organizations in their training protocols, compensation processes, employee relations programs, and hiring practices. The following list of the top 10 most affordable online doctoral degrees in human resources can help prospective students narrow down the available programs in order to choose the one that best meets their educational needs and professional goals.
Methodology
Before we could begin to rank the most affordable Ph.D. programs, we first needed to determine what was available in this particular field and through which schools. We consulted the National Center for Education Statistics, which maintains an active database comprised of information on every college in the country. We conducted a search for the term "Ph.D. in Human Resources Management degree online" using the College Navigator Tool, and we were provided with a list of 12 institutions that offered this degree. Then, we narrowed our list down to the top 10 most affordable programs based on in-state graduate tuition for the entire length of the program. We ranked the schools below in order from most expensive, yet still affordable, to the least expensive.
Ranking Low-Cost Online Doctorate in Human Resources Management
10. Northcentral University
San Diego, California
Online Doctor of Philosophy in Organizational Leadership
Tuition: $75,530
Northcentral University offers a Doctor of Philosophy in Organizational Leadership program designed for students with an interest in human resources and who are seeking the flexibility of a distance learning degree. The program places a high level of importance on independent studies and requires students to work with an academic advisor in order to create an individualized plan of study. Classes begin every Monday, so students may quickly enroll and begin to earn credits, and more than 60 percent of enrollees receive some type of financial aid to help offset the cost of tuition. Students must complete 20 courses for a total of 60 credits of study, and Northcentral encourages students to graduate within 45 months of beginning the program. Graduates are prepared for careers as project and program managers, general managers, operations managers, human resources specialists.
9. Ashford University
San Diego, California
Online Doctor of Philosophy in Organizational Development and Leadership
Tuition: $67,084
The online Doctor of Philosophy in Organizational Development and Leadership at Ashford University helps students demonstrate their ability to assess organizations by relying on evidence and research as well as their ability to anticipate the impact of organizational change and strategic initiatives. The curriculum is comprised of advanced courses in measurement, statistics, and research, and students must complete a capstone and a dissertation in order to graduate. The program includes 62 credit hours of six- to nine-week courses, and students may choose a specialization in areas such as standard organizational development and leadership, training and eLearning, innovation and entrepreneurship, and organizational diversity. Graduates are prepared for careers in organization planning, operations management, leadership development, management consulting practice, senior management in human resources, executive coaching, and strategic organizational consulting.
8. Colorado State University
Fort Collins, Colorado
Online Doctor of Philosophy in Education and Human Resource Studies – Organizational Learning, Performance, and Change Specialization
Tuition: $55,920
The 60-credit-hour online Doctor of Philosophy in Education and Human Resource Studies includes a specialization in learning, performance, and change. Designed for working executives, the program features a combination of online coursework and biweekly meetings in Denver on Saturdays. With a strong foundation in change, strategic, and organizational management theory, the Ph.D. program focuses on a combination of economic, psychological, systems, and sociological approaches to performance improvement strategies. Faculty members are industry experts with both research experience as well as experience in specialized areas such as scenario planning, systems leadership, onboarding, and learning in the workplace. The curriculum features a blend of coursework designed to focus on applied expertise and research skills. Students move through the program as a cohort, developing professional relationships, and they complete two courses per semester as well as a dissertation.
7. University of Maryland University College
Adelphi, Maryland
Online Doctor of Business Administration
Tuition: $52,176
The Doctor of Business Administration from the University of Maryland University College consists of 48 credits of required coursework in areas such as evidence-based research methods, data analytics in practice, and research as a tool for decision-making. Students are also required to complete three courses known as "producing actionable knowledge" classes that offer assistance for those researching and composing their dissertations. Designed for executive-level working professionals, the DBA emphasizes strategic thinking and management theory, research and innovation, organizational leadership and change, and sustainability in the global business environment. Highly motivated students may complete the program, including the dissertation in three years, but they are granted seven years to finish. Graduates are prepared for leadership and management roles in nongovernmental, governmental, nonprofit, and for-profit organizations as well as in external and internal consulting and higher education administration and teaching.
6. University of Illinois
Champaign, Illinois
Online Ph.D. in Human Resource Development
Tuition: $43,705
The University of Illinois provides a Ph.D. in Human Resource Development that focuses on the preparation of leaders and scholars in the discipline of human resource development. Engineered to facilitate an extensive business administration education, students may access the program at their convenience via an online learning portal. Emphasizing innovative training and development standards, performance improvement, and organizational development, the Ph.D. features coursework that provides students with a comprehensive understanding of best practices within top managerial and administrative positions. Areas of study include the advanced and foundational practices and theories of the discipline as well as the research process involving different methods and perspectives aimed to address key areas of the field. Graduates typically serve as managers of human resource departments, university faculty, or senior staff members in development and research institutions.
5. Bellevue University
Bellevue, Nebraska
Online Ph.D. in Human Capital Management
Tuition: $43,500
Bellevue University offers an online Ph.D. in Human Capital Management that focuses on the latest practices and knowledge in the field. The curriculum is divided into four key areas of study: analyzing the effectiveness of human capital, measuring human capital, organizational goals, and productivity. Students may choose from specializations in benefits administration, foundations for professional success, and recruitment. The curriculum focuses on topics such as benefits management, compensation, labor relations, human capital development, and Equal Opportunity compliance. Students must complete 40 credits in administration and business studies as well as 40 credits in electives; a final exam and dissertation are also required. This program is unique in that it focuses on hands-on learning, allowing students to relate theory to real-world situations.
4. Liberty University
Lynchburg, Virginia
Online Doctor of Business Administration in Human Resources
Tuition: $35,700
Liberty University offers a Doctorate in Human Resources Management online that is designed to provide advanced managerial training for students seeking the highest levels of administration, consulting, and marketing. The 60-credit online program also features three optional week-long intensive courses in Lynchburg that reflect a biblical principles specialization. Students take coursework in areas such as quality management, organizational and executive coaching, human resource development, and research methods. A dissertation is also required, and students may graduate from the program within three years. A key feature of this particular program is that it offers both optional intensive courses and WebEx meetings, meaning students can build relationships with their classmates and professors that help them both in the DBA program as well as in the professional world.
3. University of Texas at Tyler
Tyler, Texas
Online Human Resource Development Ph.D. Degree
Tuition: $33,820
The Ph.D. in Human Resource Development at the University of Texas at Tyler is dedicated to helping students develop expertise in both organizational development as well as the training of personnel for corporate and individual performance goals. Throughout the program, students have the opportunity to leverage their business experience to study the most important issues facing organizations. The curriculum focuses on research and projects in organizational development, and students have ample time to pursue individual interests. Potential courses include those in business ethics, financial analysis, accounting, and advanced seminars in corporate taxation. Although the program is not entirely available online, students must only come to campus five times per semester, which still allows for a great deal of flexibility for students in the surrounding area. A dissertation based on original research is required, and students may earn their degree within two and a half years.
2. University of North Texas
Denton, Texas
Online PhD in Strategic Management
Tuition: $32,721
The University of North Texas offers an online Ph.D in Management along with first obtaining their MBA in the same program. This unique program is fully online, and offered by a select number of schools which provides exposure to the strategic skills students need to manage and position an organization for success. Throughout the curriculum, students learn how to manage strategically, define and establish business strategies, and deal with change to meet company objectives in a global, complex economy. After completing the MBA portion of the program, students go on to pursue the online doctoral degree in management, This 69-credit-hour degree includes core and advanced research courses, a management seminar, a pre-dissertation, a doctoral dissertation, and written and oral comprehensive exams
1. University of Arkansas
Fayetteville, Arkansas
Online Doctor of Education in Human Resource and Workforce Development Education
Tuition: $27,826
The online Doctor of Education in Human Resource and Workforce Development Education at the University of Arkansas is designed for students seeking careers in job centers, vocational schools, and colleges. Although most students finish the program in five years, they have up to seven years to graduate. The program is well-suited for students with a background in management design, program design, counseling, and psychology. Students must complete 96 credits, and the average course lasts approximately 15 weeks. The curriculum includes coursework in statistics and organizational development in addition to a candidacy exam and dissertation. Though not a requirement, students have the opportunity to complete a hands-on practicum experience in place of an elective. There are no campus requirements, making it a great choice for working professionals.
Frequently Asked Questions
Students looking for an affordable online Ph.D. in Human Resources Management should consider not only the cost of tuition but other factors associated with the degree and industry as well. We recommend taking a look at some of the most frequently asked questions that others have asked pertaining to human resources management careers and degree programs.
What are the Career Options for an Online Ph.D. in Human Resources Management Degree?
An online Doctorate in Human Resources Management prepares graduates for the highest levels of administration and business as well as individual entrepreneurship. Generalist-oriented individuals may gravitate towards an administrative position with a business or corporation, while detail-oriented individuals may choose to become a professor of human resources or a researcher at a business school. Whatever your inclination, earning a doctorate ensures the highest level of preparation and expertise. Some of the most common career options for graduates of this program include:
Compensation and Benefits Manager: This professional is responsible for developing and overseeing the organization's pay structure. Benefits packages, health insurance, and retirement benefits are all managed and directed by the office of this management position.
Training and Development Manager: A training and development manager coordinates and directs all programs within a company that have to do with the skill-orientation and training of that organization's workers. He or she also coordinates orientation activities and development specialists.
Administrative Services Manager: This individual is involved with an organization's support services and is directly involved in the supervision of record keeping and the maintenance of facilities as well as office workflow design, organizational structure, and mail distribution.
Professor: A postsecondary teacher, the professor is responsible for leading the student body through a variety of technical, academic, and career subjects. A professor is also intimately involved with student advising, research, and the administration of higher learning institutions.
Management Analyst: Also known as a management consultant, the management analyst researches different ways that an organization can improve its effectiveness. Typically, the management analyst advises organizational managers on how they can make the business more profitable.
How Much Can You Earn in This Field?
Before choosing this career path, it is important to consider the prospective salary of graduates who hold a doctoral degree in human resources in order to determine whether it is worthwhile to further one's education. Although the cost may seem significant, earning a terminal degree means graduates receive a significantly higher salary than those with only a master's degree.
According to the U.S. Bureau of Labor Statistics, the median salary for a human resources specialist in 2017 was around $60,350 but this position requires only a bachelor's degree. Those who earn a doctoral degree can pursue human resources managers positions that earn a median annual salary of $110,120 per year. The highest 10 percent of human resources managers earned more than $197,720, while the lowest 10 percent earned less than $65,040.
Human resources managers who are employed by private companies and in enterprise positions report the highest salary, which was $124,540 in May 2017. Individuals working in healthcare and government positions earned the lowest salary, but these professionals can still expect to make a minimum of $94,000 per year.
What Are the Various Disciplines of Human Resources Management?
The Society for Human Resource Management (SHRM) is one of the best-known professional organizations within the field of human resources. It allows professionals and students to become members, giving them the opportunity to attend meetings, seminars, conferences, and other special events. Members can also find and post available positions on its job board as well as read official publications to stay up-to-date on the latest trends in the field. According to the SHRM, the following are the individual disciplines within this industry:
Organizational development
Rewards, compensation, and benefits
Employee relations
Health, safety, and security of employees
Organizational development focuses on the entire company and the ways in which it can improve. Workers may attempt to improve communication between departments, implementing mentoring programs to help new employees and thus changing the current method of training. Professionals who work in rewards, compensation, and benefits are responsible for examining the amount of compensation to which employees may be entitled, including bonuses, health insurance, paid health leave, and paid vacation time.
Employee relations is a discipline that focuses more on the connections between employers and their employees, looking at the methods used to recruit new employees, the best way to conduct exit interviews, and how to improve employee retention. Finally, the health, safety, and security of employees closely deal with the procedures and methods that help workers stay safe on the job. This can include reducing mental health problems in the office, planning for possible disasters, and treatment options for those diagnosed with specific medical conditions and diseases.
Are There Any Professional Organizations for Human Resources Management?
While earning a doctoral degree in human resources, students can choose to join professional associations to receive access to career development and networking opportunities. Many professional organizations provide online resources such as job boards, training programs, and webcasts. In addition, these associations often host in-person meetings and conferences, allowing members to connect with professionals in the field. Three of the most recognized professional organizations in human resources management include:
College and University Professional Association for Human Resources (CUPAHR): This organization acts as an advocate for professionals working in human resources in higher education. Members have access to a wide range of opportunities for career development, including virtual webinars and workshops, conferences, and a members-only, online community.
National Human Resources Association (NHRA): This organization is a primarily volunteer-run, nonprofit professional group. Members have opportunities to attend events and meetings, complete online and in-person training programs, and connect with professionals at all levels. The NHRA's website also features an expansive database of available job positions throughout the U.S.
Society for Human Resource Management (SHRM): The largest professional society for human resources in the world, SHRM members have access to career resources such as development activities, free webcasts, trends reports, and toolkits. The SHRM also offers several scholarships and awards for professionals and students, and it holds an annual conference that features networking opportunities, seminars, and workshops.
What is the Curriculum Like for an Online Ph.D. in Human Resources Management?
Earning an online Ph.D. in Human Resources prepares students to fill a number of management roles. Although coursework varies by program, students can expect classes that cover the regulations and laws that government compensation and benefits, employee recruitment and retention, unions, and employment issues. Most programs require students to research and write a dissertation, which involves an extensive look into a specific human resources issue or topic. The following are several of the most common classes offered in online doctoral programs in human resources:
Compensation Management: HR managers must know how to manage, implement, and create a compensation and benefits program. This class reviews all aspects of compensation, including the components of these systems, bases for pay, and the benefits that are legally available to employees.
Organizational Performance and Behavior: This class examines the practices and principles of improving employee performance. Students learn how to assess the results of performance improvement interventions, create performance improvement proposals, and establish organizational performance requirements.
Law, Ethics, and Culture: Since companies must adhere to regulations and laws to ensure the welfare of their employees, it is the HR professional's job to understand these rules. This course delves into the role of the HR professional in communications, the regulatory environment in which they operate, and how to manage inclusion and diversity within an organization.
Attracting and Retaining Talent: One of the most vital responsibilities of human resource professionals is recruiting top employees and ensuring they are satisfied with their jobs. This class discusses how competition for talent, succession planning, and diversity create an appealing work environment.
Labor Relations: This class prepares students for human resource positions within unionized organizations. Students are introduced to unions, including their processes, politics, history, and relationships with businesses. Students also explore how unions affect the behaviors and attitudes of employees and management.
How Long Does it Take to Earn a Ph.D. in Human Resources Management Online?
Most students who pursue full-time doctoral programs can earn their degree within four years. Most programs consist of a doctoral dissertation and about 60 credits of coursework. Along with program requirements, factors such as program structure and enrollment status also affect the time needed to complete the degree. Students with professional or personal responsibilities may take fewer credits per term and thus take longer to finish the program. In most cases, students have between seven and 10 years to graduate.
Programs that follow a cohort model in which students work together with their classmates to complete coursework in a prescribed sequence may take longer than individually paced programs in which students move through the curriculum at their own speed. Before pursuing an online Ph.D. in Human Resources Management, students should take time to determine their individual learning style. For instance, students who require greater scheduling flexibility typically follow individually paced programs, while those who thrive in community-based environments may derive more benefits from cohort programs.
What is the Dissertation?
Most, if not all, online Ph.D. programs in human resources require students to complete a doctoral dissertation during the final year of study. A dissertation is similar to the graduate thesis, but it is more detailed and longer. Students can expect to meet with their faculty advisors to choose from a list of potential subjects, and the two will decide on a final project together. Most universities or colleges give students course credit for their research as well as any other work they complete during this time. Students can choose a topic that relates to where they want to work or their professional goals. Possible topics include the importance of wellness programs in the workspace, how letting employees work from home may affect a company, the best methods of conducting employee appraisals, or the benefits of proper employee training programs.
Is Accreditation Important for Online Doctorate in Human Resources Management Degrees?
Accreditation helps to maintain a high standard of education by differentiating between those institutions that have met these standards of quality and those who have not. Regional accreditation is a process undertaken by a school or college to conform to that standard through evaluation and inspection by a third-party organization, usually comprised of a group of the school's peers. Regional accreditation is sometimes considered to be more prestigious than national accreditation, although both are indicators of high-quality institutions.
National accreditation is a necessary yet separate requirement of any college looking to receive federal financial aid or grants. Other than national or regional accreditation, there is no specific accreditation associated with online degree programs in human resources management. However, some schools work directly with local businesses or governmental bodies in order to offer exclusive internship opportunities. In addition, some business-centered programs have their own accreditation bodies, including the Association to Advance Collegiate Schools of Business (AACSB) and the Accreditation Council for Business Schools and Programs (ACBSP).
The U.S. Department of Education was formed to regulate policies concerning all colleges and schools in the country. It is also responsible for enforcing federal laws regarding education, gathering data about schools, and coordinating federal assistance for education. Although the department has no direct hand in the actual accreditation process, it does work to promote the success of education in the U.S. The Council for Higher Education Accreditation (CHEA) and similar organizations also help to maintain high standards of quality for institutions, keeping colleges competitive across the country and the world. Those considering a postsecondary degree should pursue one that is recognized and accredited by one of the seven organizations that make up the Council of Regional Accrediting Commissions to ensure that they are receiving the best education possible.
A Doctorate in Human Resources is a professional degree sought after by industrial-organizational psychologists, human resource leaders, and educators, and earning a Ph.D. online is a flexible option for those who currently have work or family obligations to meet. Web-based programs feature the same rigorous curriculum found in on-campus programs, and doctoral degrees come in many forms including the Doctor of Business Administration, the Doctor of Education, and the Doctor of Philosophy. Choosing the one that is right for you depends on your previous education experience as well as your future career goals. In any case, earning an on-campus or online Ph.D. in Human Resources Management can help you advance your career in many fields and organizations.
AS Staff
This concludes our ranking of the Top 10 Most Affordable Online Ph.D. in Human Resources Management.
Related Articles:
Other Rankings of Interest: